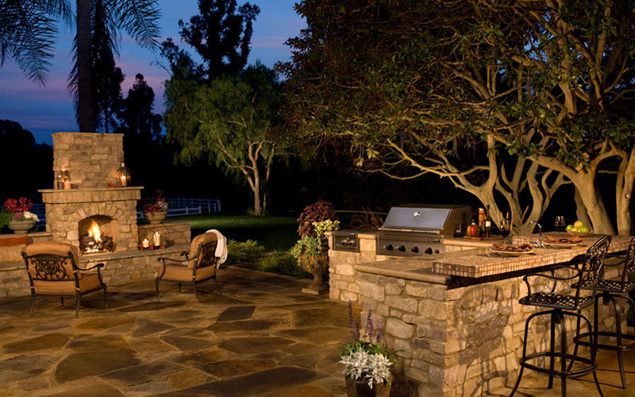 With summer in full swing, everyone is trying to get their backyard ready for cookouts, entertaining and family time. If you're looking for a place to start, take a peek at these ideas on ways to upgrade your outdoor space!
Stamped Concrete Patio
Looking for a level space to place your new outdoor dining set and grill that is also good to look at? A stamped concrete patio is a great way to freshen up your back yard while also adding more design interest and style to your home. You can choose between a variety of colors and patterns to fit your personal taste. In addition to stamped concrete, you can also check out concrete overlays and acid staining to give your old concrete patio a fresh, new look!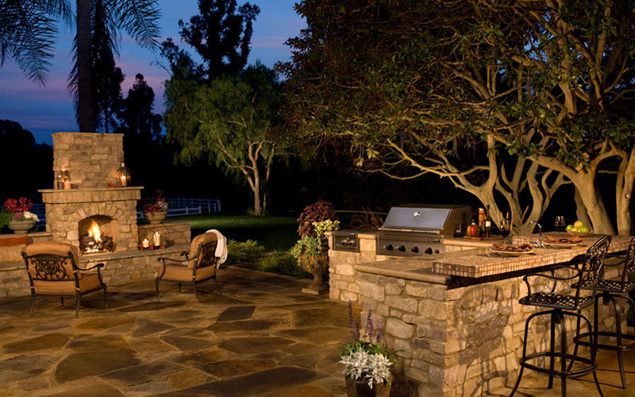 Outdoor Kitchen
If you are interested in spending
more time outside, an outdoor kitchen is a great option. You won't need to miss a minute of entertaining guests by adding an outdoor kitchen with areas for food preparation, cooking and dining. Outdoor kitchens can be as simple as a grill but can expand to areas with side burners, drop in coolers, fire places and seating areas.
Fire Feature
While outdoor kitchens are great for use in the spring, summer and early fall, by adding a fire feature like a fireplace, fire pit, or fire bowl, you are able to use your outdoor living area for a larger part of the year.
By adding a propane fueled fire feature, you also allow more quality time with friends and family so you won't need to be constantly tending to the fire.
Outdoor Lighting
Outdoor spaces are great during the day, but by adding light fixtures you can extend the use of your backyard into the evening. It can also help create ambience and complete the look of your outdoor space. New technology is constantly coming out with outdoor lighting, you can now have lights powered by not only electricity but also propane and solar energy.
Awning
It's always nice to have a lot of outdoor areas to spend time in
at home, but it can get hot sitting out in the
direct sun, especially during the summer. Outdoor awnings, like Sun Setter, have many benefits and can be
attached to the exterior of your home to add a shady spot over an outdoor dining or seating area. You can even get a motorized awning so it can be retracted with the click of a button!
With all of these options to choose from, there's no bad place to start. Even better, G&B Energy and DesignCast Concrete have discounts you can take advantage of right now to get started on your new backyard! Download our complete guide to outdoor kitchens to get started today!