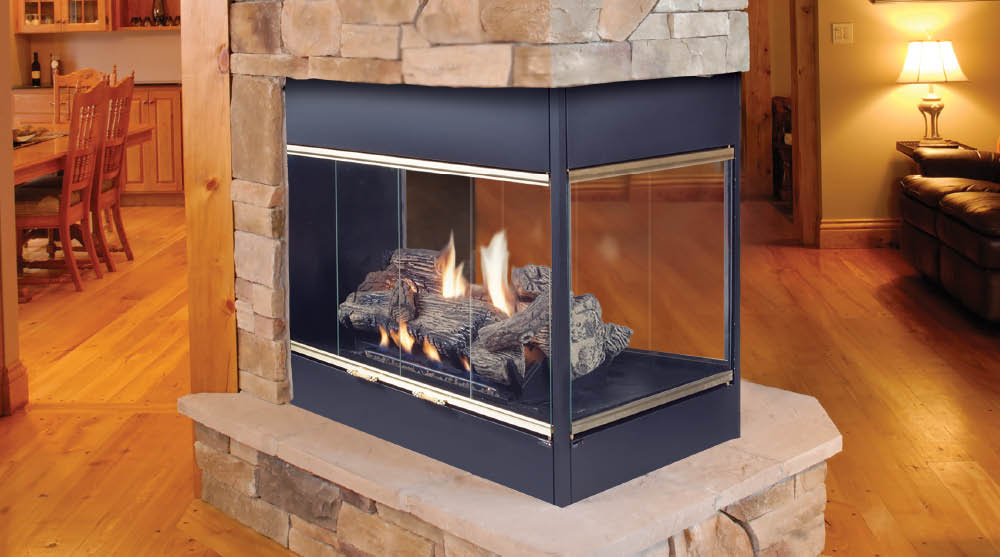 Fireplaces are one of the top amenities homeowners are looking to buy for their home. With recent advancements in gas fireplaces, homeowners have plenty of unique and affordable options to choose from. Combine the flexibility of installation with improved efficiency and a vast array of styles, and you'll see why gas fireplaces are one of the hottest hearth products on the market today.
If you are in the market to buy a gas fireplace, you'll want to consider the pros and cons of these four available venting options:
Direct-Vent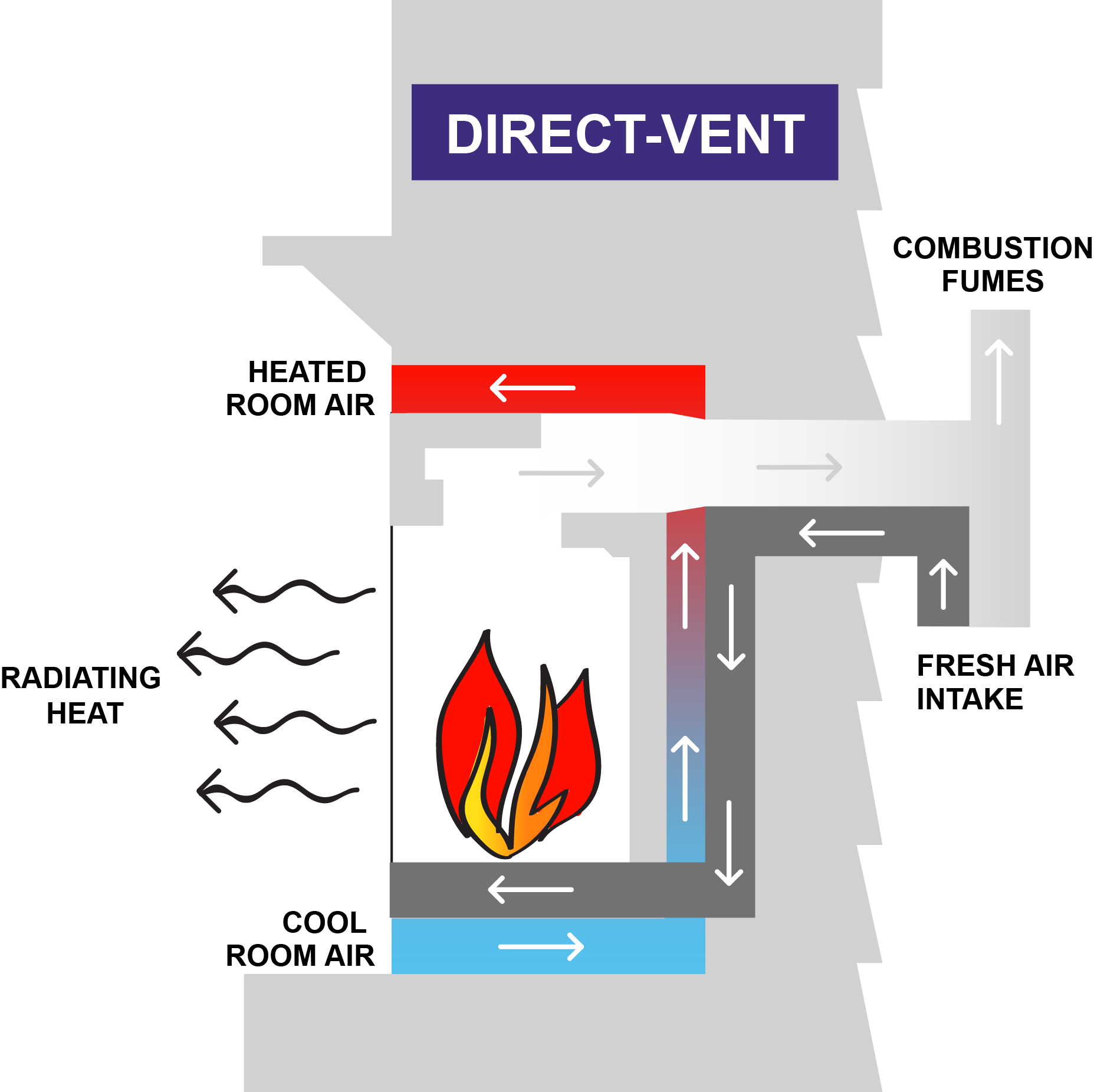 Direct-vent hearth products are the safest option for supplemental heating. Direct-vent systems transfer the combustion fumes and pollutants outside the home via a chimney or an opening on the exterior of the home. These fireplaces will typically have a sealed pane of glass on the front of the fireplace. Most homeowners who choose direct-vent models enjoy the peace of mind of knowing that all odors and pollutants are being vented outside of their home and not in the air they breathe.
Direct vent fireplaces are the most popular choice for homeowners. In fact, 90% of gas fireplaces are sold direct-vent because of their increased safety, efficiency, and versatility (Source: Build with Propane). In terms of versatility, you can vent a direct-vent fireplace horizontally or through the roof. They can be installed almost anywhere! From a heating standpoint, a direct-vent fireplace will be around 70%-85% efficient. Direct-vent fireplaces are best for newer, more air tight homes.
Natural Vent
Natural vent (also referred to as B-vent) hearth products take in combustion air from inside the home and vent products of combustion outside home via a brick and mortar chimney or pipe venting system installed through the roof. Some Natural vent hearth products have a sensor to extinguish the fire in case exhaust gasses ever reverse and come down the flue.
Some Natural vent hearth products can be as little as 20% efficient, making them the least efficient units available. They do produce the most attractive flame pattern and have flexibility with vent pipe runs. However, even though they may be less expensive to install, they are more sensitive to air flow inside the home.
Vent-Free
According to Fireplaces Now, 45 million homes worldwide and more than 8 million American homes enjoy the comfort and convenience of vent-free gas fireplaces. Vent-free hearth products can be installed without venting up a chimney or to the exterior of the house. This allows them to be placed pretty much anywhere within a home except bedrooms and bathrooms. Since there is no venting, all of the warmth generated from the fire stays in the room where it is installed. For this reason, vent-free systems are up to 99% efficient!
Without venting, the pollutants from combustion also remain in the room where the fireplace, gas log set, or stove is installed. For air quality concerns, vent-free hearth products are designed to burn very clean. They will also come with sensors that will automatically shut off the system if oxygen levels in the room become unsafe.
Asthma or allergy sufferers, along with the elderly and those with breathing problems, are recommended to install vented hearth products.
Power Vent
Power-vented units are a less popular option for gas fireplaces. A fan-powered accessory is placed along the vent to boost the air exchange. This allows for longer vent runs. Power vented gas fireplaces can be installed where other types of fireplaces might not work, such as a freestanding wall.
Regardless of the venting option you choose, we recommend you install a Carbon Monoxide detector in your home!
---
To learn more about gas hearth products and finding the right one for your home, download our free eBook below!